2010 Financials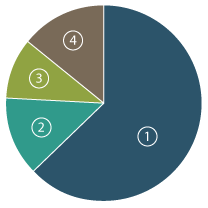 Gill Foundation
How We Spend Our Money
1)
Grants
63%
$11,817,231
2)
Management & General
13%
$2,386,077
3)
Program Expense
10%
$1,919,107
4)
Grants Administration
14%
$2,595,412
Total
$18,717,827
*This page contains consolidated audited financials.
All others were preliminary, unaudited financials at the time the report was published.
The Gill Foundation and the Gill Operating Foundation merged as of July 1, 2010. As a result of the merger, all former assets of the Operating Foundation are now owned by the Gill Foundation. The final tax return for the Gill Operating Foundation was filed on November 15, 2010.
1 The Gay & Lesbian Fund for Colorado is a grant making program of the Gill Foundation.